Classes, Private Lessons
Live Streaming classes for everyone everywhere! No need to go out to cold and travelling between home and studio:)
Yoga class in your living room, or wherever you happen to be! Two weekly live streaming classes on Tuesdays and Sundays. Save your time and trip to the studio, and stay at your home for the class. Or roll out the yoga mat wherever you happen to be at that moment. With live streaming and small groups, it is still possible to Come and try out yourself! 
General level class on Tuesdays at 19-20 (Central European Time)
For everyone with some basic knowledge of yoga asanas. This class is more slow paced class compared to the Sunday class, wishing you to get a good night sleep!
Intermediate class on Sundays at 18-19  (CET)
Active class for you who have already a bit more experience from yoga and want to look deeper and understand the practice better.
NEW: Only 3 times in January! Thursdays at 16-17 (CET) (17-18 East European time, Finland etc.). January 14, 21 and 28. Suitable also for the beginners. Try out yoga and learn the basics, or get back to practice after the Christmas break.
Price in January: in Switzerland per lesson and per person is 20fr for a single class 
Other countries: 15€/class
You can sign in by writing an email to liisa@lumoyoga.com. After payment will get the link to Zoom meeting. You can pay by using mobile payments /Twint or Revolut) or paying to the bank account.
There will be more classes coming up, so please write an email to Liisa or check it out later from here.
Yoga in English (Zürich)
Notice: There's no studio classes at the moment because of the corona virus situation. You are welcome to take part of the live streaming yoga classes (look above)
Strong and precise yoga style, based on Liisa's long and intensive Iyengar yoga studies, with added elements from Hatha-yoga. Every class is different. Sometimes we move a lot, sometimes it is time to take it easy. Basic knowledge of yoga asanas and medium condition would be helpful but enthusiasm and intention are more important!
Please sign up to the class before coming by writing Liisa a short email  (liisa@lumoyoga.com) 
Address:Yoga Nation, Seefeldstrasse 7a, Zürich
------------------------------------------------------------------------------------
Yoga for Musicians'- classes and lectures:
Sibelius Academy (University of the Arts Helsinki ), Finland
Zürcher Hochschule der Künste (Zürich University of the Arts). Switzerland
Meditation-pranayama-asana -Advanced Sunday classes
Next class will be announced here. No studio classes at the moment.
Monthly 120min meditation-pranayama-asana - class in Yoga Nation studio, Zürich. For any student with good basic knowledge of classic asanas and interest to meditation and pranayama.
Please sign up always a week before! It is possible to join in with short notice, if there's space. Class is organised only, if there are enough students.
Yoga and mindfulness for children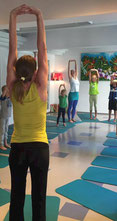 Yoga for children between the ages of 5 and 11 according to the YogaBeez -method. It provides children physical and mental experience by incorporating the core values of yoga and the Montessori Teaching Method. YogaBeez is built on the foundation of respect for the child as an individual, creative being. Emphasis is placed on educating, empowering and exercising the whole child. 
The classes can be organised privately for the enthusiastic group of children!
Yoga just for You! Private lessons for individuals and groups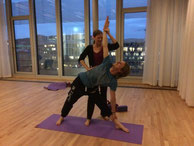 LumoYoga's speciality, the flexible private class, either one-to-one or shared with a few others, is a fun and motivating way to study yoga with your friends or colleagues, especially if you work unconventional hours, have an irregular work schedule, or if you simply want more individual attention in order to learn better, or to concentrate on some particular issue.
Study yoga in an intimate atmosphere and enjoy the classes which are planned and taught according to your individual needs and wishes, accommodating your level as yoga originally was taught. If studying privately, it is possible to choose between physically more intense, anatomical detailed yoga classes, or a gentler and slower approach. Meditation and Pranayama (breathing practices) can be included.
All levels and ages are welcome, no previous experience of yoga is necessary. 
Location
Flexible lessons and workshops can be taught in the Yoga Nation studio in Zürich, in Helsinki, Finland, or in any agreed location in the world! At your home, in your office, garden, park...
Liisa's yoga book Yoga Break
Designed to support your home practise especially Yoga for Musicians' courses and after the workshops.
Yoga Break - Easy and effective yoga for every day 
Take this book with you wherever you go to inspire
and remind you to take small yoga breaks during your busy day.
Doesn't matter, if you are new to yoga or have practiced for years, or if you have only five minutes to spend. Easy stretches for busy people, to make the energy run and give yourself a break. With or without a yoga mat.  
Available from Liisa (liisa(at)lumoyoga.com)