Yoga Courses in Finland summer 2016
Yoga Retreat in Lapland, July 3-10
Yoga Course in Central Finland, July 18-25
These courses are all about the yoga way of living. It is about deepening your asana practice, pranayama and meditation, learning to know yourself better and creating more balance in your mind, body and soul. Surrounded by the silence, in the middle of wild nature with clean air and water, blueberries and traditional wood-fired sauna. Enjoy a swim or have a trip with a rowing boat to the lake.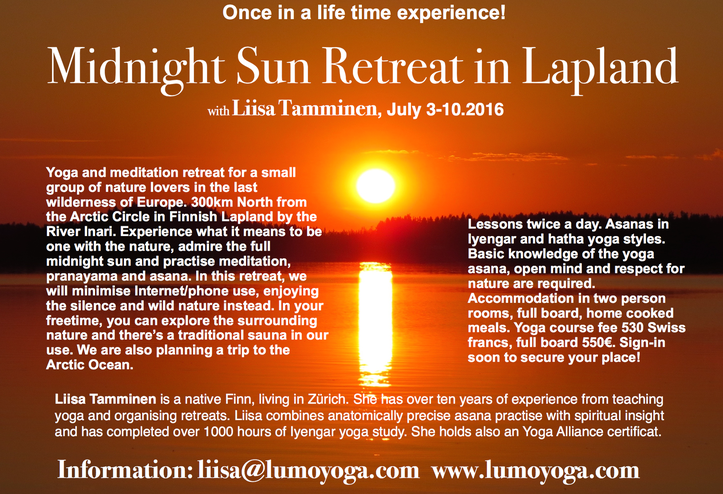 Yoga asana-meditation and pranayama in the most beautiful and remote corner of Europe. A rare opportunity to travel up North with locals and experience the famous midnight sun. We will stay in a house in the forest, by the river Inari and enjoy home-like atmosphere. In the evenings, we will have a traditional wood-heated sauna. Our trip to the Arctic Circle will be also unforgettable. 
There will be lessons twice a day with meditation, pranayama (breathing) and asana. In this retreat, we will include also a little bit of energy work(optional). 
 The course is mainly directed for yoga practitioners, who already know the basic asana. But the most important aspect in this retreat is to learn to connect with the nature and find the silence inside. Please don't hesitate to write and ask, if you are in doubt, if you could participate or not.
There's 100 Swiss francs registration fee to secure your place. At the moment, there are only few places left!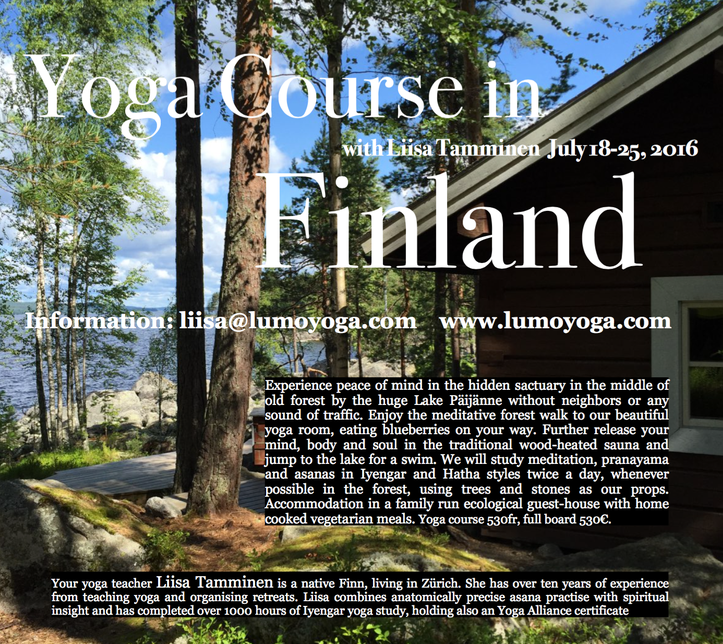 Yoga course for every level yoga practitioner! Come to deepen your knowledge of asanas and learning meditation and breathing exercises in the middle of most beautiful Finnish forest, by the lake and with traditional sauna, of course.
We will stay in an ecological guest house Nukula, about 30km from closest town Jyväskylä (airport). The place is hidden in the forest, no neighbours or any sound of traffic. There will be home-cooked vegetarian meals with some days an option of fish. Whenever possible, we will have lessons outside in the nature. There will be two long classes a day: meditation, pranayama( breathing) and asanas in the morning and asanas and a short meditation in the late afternoon. There will be plenty of free time to explore the surrounding nature. 
You can sign in by paying 100 Swiss franc registration fee. There are only two places left, so better hurry! Course fee 530r, full board 530€.