Business Yoga
Yoga for Jet Lag, Conferences, or Just for Your Well-Being
LumoYoga for Business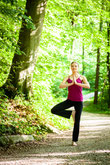 With a clear mind and good physical condition you will be fitter to work long days, travel and make important decisions. Even if you are a regular visitor to the gym or a passionate jogger, in LumoYoga classes you will learn how to recover faster, increase concentration and manage stress, as well as learning how to stretch effectively and stay in shape even if you travel a lot. As a busy professional, it is difficult to find the time to attend regular classes. LumoYoga makes it possible with private or semi-private lessons, and flexible times and locations. it is also the perfect solution if you have any existing injuries.
It is also possible to organise lessons for companies and bigger groups.
In the Lessons
LumoYoga offers both physically intense yoga, as well as a gentler approach with breating exercises and meditaton. Every lesson is different, depending on the group, the time of the day, and individual needs and wishes. It is possible to emphasise restorative yoga and stress-reducing practice, or to concentrate on stretching and strengthening especially the areas of the body which work hard in your profession. The priority is body awareness and correct alignment, re-educating the body for better posture and balance. Poses are held for longer than in most other styles of yoga, not only to increase strength and flexibility, but also to learn how to have a quiet mind under stress. Regular practice gives the best results, but even a short "yoga break" in the middle of a busy day will make a difference. 
You don't need to be flexible to start yoga! In LumoYoga lessons we use special equipment, such as foam blocks and yoga belts, to achieve the yoga poses with healthy alignment.
LumoYoga for Jet Lag
Based on her personal as well as her teaching experience, Liisa has developed a yoga practice for the busy travelling professional.
- Yoga works very effectively to ease or prevent jet lag, or to recover from any longer trip.
Restoring energy and stretching the body helps you to think clearly and to sleep better. Your body and mind work together. When the body is tired or aching, it is difficult to keep the mind focused.
- Gentle stretches, simple breathing excercises and, depending on your needs, either calming or energising excercises (asanas) make you feel like a new person. Anyone can benefit from this type of yoga, from the absolute beginner to advance practicioner. The practice will be tailored according to your needs, wishes and ability. You don't necessarily need to be flexible!
 - You will notice the difference even after one lesson, However, making a permanent change in .your well-being and learning how to practice independently at home takes more time.
- Practise yoga with a private teacher at a time which suits you.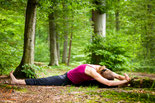 Yoga Breaks for Conferences and Meetings
Give your guests, colleagues and employees a unique chance to refresh the body and mind during long days! Even a short "Yoga Break" is enough to make some difference to the participants' well-being. The body and mind work together. Breathing has a close connection to the nervous system, and it is difficult to concentrate on important issues when your back or hip is hurting. Even with short breathing exercises and simple stretching, everyone will have more energy and focus to help them carry on. 
Every occasion, space and group is different, so LumoYoga's Yoga Breaks will be always designed for your situation and your people., For these short breaks, it is not even necessary to change location or clothes.
For deeper practice and to feel fit for the coming day, LumoYoga offers the opportunity for an energising, one-hour  "Get Ready for the Day" morning yoga class, After a long working day a "Restore your Energy" class will bring balance and relieve stress. Classes can be taught in a group or one-to- one .
Classes and Short Workshops for Your Needs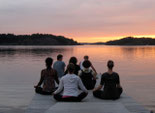 LumoYoga classes are especially tailored to your personal or your company's needs and wishes. A unique opportunity to learn and practise yoga safely, guided by an experienced and certified teacher, Liisa Tamminen. Take advantage of the flexible lesson times!  
Yoga courses or classes with your own group, one-to-one, or workshops, at your office, yoga studio, or another agreed location.  
Short Workshop suggestions:  
- Releasing Stress from the Body and Mind
- Breathe!
- Introduction to Yoga
- Stretch the Shoulders, Move the Back
- Creating Balance
See also "Classes, Private Lessons" about one-to one classes.
Where?
Based in Zürich, Liisa also has the flexibility to travel elsewhere in Switzerland, and even abroad. Whenever possible, she will come and teach in your company's space or in any other agreed location.
Please contact Liisa for further information. (liisa@lumoyoga.com)
.